Message
President Kyosuke Nagata, University of Tsukuba
In keeping with a long tradition and the achievements of 101 years since its establishment as Japan's first "teacher training school" in 1872, our university has now evolved into a "future concept university" from a "new concept university" when it moved to Tsukuba Science City in October 1973. It currently continues as a global university that creates the future and leaps onto the world stage.
For our university to accomplish further developments, we believe it is important to create a network irrespective of time and place as well as to maintain a common bond on a reciprocal basis for our university's "lifelong partners" such as current students, graduates, completed students, current teaching and university staff, former teaching and university staff. As our platform to realize this, we have established the "Tsukuba Alumni Network".
Please use our website to a great extent and we hope that various interactions will blossom and connections disseminated among people of all ages through the network by our common bond which is the University of Tsukuba.
We look forward to your participation.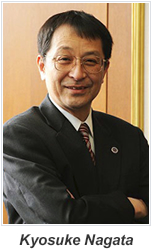 Vice President Caroline Benton, Global Affairs
The University of Tsukuba was reborn in 1973 as a comprehensive university to spearhead education reform and with the basic philosophy of being open to all society. We fully embrace this philosophy as can be seen by the absence of gates and fences surrounding our campus and by our having the most diverse student body among Japanese national universities as measured by the percentage of foreign students. In fact, Kano Jigoro, the director of our previous institution and the father of modern judo, is said to be the first person to invite foreign students to Japan. Following in his footsteps, we were happy to welcome foreign students from over 100 countries.
Over the last several years, we have also established 13 overseas offices focused on promoting academic and research exchange and university-alumni relations. As a result, alumni associations centered around these offices and as well as in other regions are quickly expanding in number.
At this time, we are very excited to launch the Tsukuba Alumni Network (T-Net), a platform for our alumni to find, connect and share information. We hope that T-Net will be a vibrant and active platform that will allow our alumni to remain connected to their fellow classmates and to the university. Through our connections, let's build a brighter future for all!